BIOSWEEP FRANCHISE OPPORTUNITY
BIOSWEEP® Franchises, offered by Phocatox Technologies LLC, provide mobile contaminant and odor removal services and durable antimicrobial surface treatments across exclusive geographic and vertical market segments in the US, Canada, and beyond. BIOSWEEP franchises are independently owned and may be operated "stand-alone" or as add-on service capabilities to existing cleaning and restoration, mold remediation, home inspection, auto detailing and/or other service businesses.
REASONS FOR OWNING A BIOSWEEP FRANCHISE:
Initial investment is 20% to 50% lower than other franchise packages
Ultra-Effective Technology, Recognized Brand
Flexible Hours – be your own boss
Proprietary Technology and Processes Not Available Elsewhere
Numerous Vertical Market Opportunities
National Accounts Program
Limited Competition
Extensive Field Training and Certification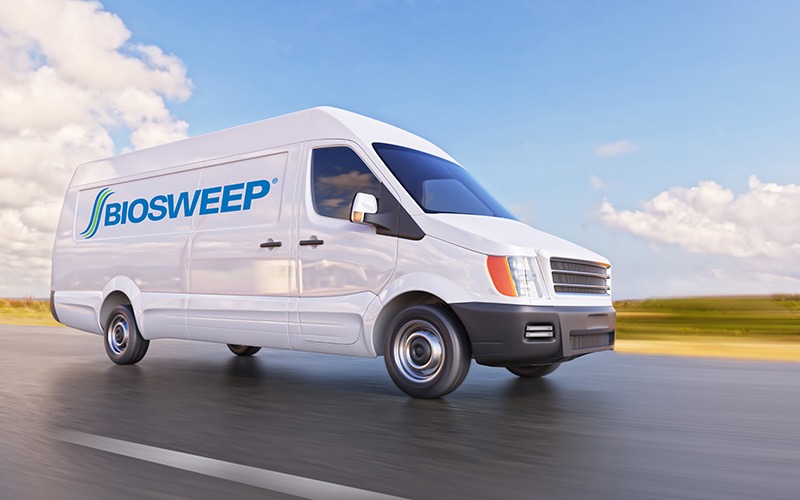 BIOSWEEP APPLICATIONS
There are a wide range of applications for BIOSWEEP services. Many people and businesses encounter the need to remove odors or events requiring decontamination or antimicrobial treatment. Some of the specific problems include:
Cigarette Smoke
Kitchen Fires
Curry
Pet Urine
Skunk/Dead Animal
Flooding / Water Damage
Sewage Backup
Fuel Spills
Biohazard / Trauma
BIOSWEEP MARKETS
Local service rates are determined by individual franchisees. We offer practical guidelines based on market research and field experience.
Multifamily Housing
Property Management
Real Estate Professionals
Home Inspection
Automotive Dealerships
Cleaning & Restoration Contractors
Yachts and Marinas
Athletic Facilities
Schools
Daycare
Medical / Dental Offices
Hotels
Restaurants
BECOME A BIOSWEEP FRANCHISEE!
Join our growing worldwide service network of trained professionals who are providing novel and proven decontamination technologies daily to a vast array of markets. Earn financial independence by tapping into the $100+Billion/yr. cleaning and restoration market with absolute cutting-edge technology, superior training and corporate support.
Our BIOSWEEP Franchise business model allows you the flexibility to begin earning revenue almost immediately, positively cash flowing your launch and growth. Our franchises can be initially operated and managed by a single person, with additional tech-level employees being added on a full or part-time basis as needed. The "ramp up" for new BIOSWEEP franchisees varies widely depending on the amount of time devoted to the business, and franchisee background and experience.
All new BIOSWEEP franchises receive comprehensive orientation and field training session prior to commencement of operations. This training covers all operational methods, treatment scenarios, health and safety, technical data, sales and marketing strategies, marketing materials and forms. Training is conducted in-person at your location at no charge. Ongoing field support is also provided as well as best practices shared among the franchisee network.
Take the next step today to learn more about becoming a BIOSWEEP® Service Provider and owning your own unique franchise business. Upon submitting an information request via e-mail to info@biosweep.com  with your name, contact information and location of interest, you will immediately receive a complete Electronic MEDIA KIT, with no hassle or obligation. Qualified parties may request in writing to receive our Franchise Disclosure Document (FDD).
About Phocatox Technologies LLC:
Phocatox Technologies LLC is a U.S. technology development and device manufacturing company. Phocatox manufactures, and through BIOSWEEP franchises, licenses innovative, high performance decontamination systems for indoor air quality (IAQ) and surface remediation. Phocatox Technologies LLC offers protected geographic territories throughout North America and abroad.
The company is privately owned and managed by an experienced team with expertise in environmental technology and remediation, manufacturing, product line management and administration. Headquartered in Indianapolis, Indiana, Phocatox Technologies has regional offices in Houston, TX and Charlotte, NC.
CORPORATE MAILING ADDRESS

PHOCATOX TECHNOLOGIES, LLC
DBA BIOSWEEP SERVICES
PO BOX 50891
INDIANAPOLIS, IN 46250
ADMINISTRATION AND ACCOUNTING
160 W. CARMEL RD. SUITE 204
CARMEL, IN 46032
BILL MCDANIEL, MANAGING PARTNER 317-753-8982
FRANCHISE AND INVESTOR RELATIONS
624 MATTHEWS MINT HILL RD. SUITE 236
MATTHEWS, NC 28105
MARK BRODOWICZ, MANAGING PARTNER 317-525-0982
MANUFACTURING FACILITY
1511 BINGLE RD SUITES D6-8
HOUSTON, TX 77055
HARPER JONES, MANAGING PARTNER 713-461-6991